Who We Are
---
Little Atlin Lodge is a female-owned local Yukon tourism operator. I've taken over from the previous owners in 2021 and I am looking forward to welcoming guests, old and new!

Our two rustic log cabins cabins are available year-round.
Directions
---
How to find us
We are about 90km south of Whitehorse, directly on Little Atlin Lake. Our address is: km 6, Atlin Rd, Tagish, YT Y1A 7A1.
Coming from Whitehorse, go south on the Alaska highway (Highway 1). Turn right at Jake's Corner towards Tagish (Highway 8). After 1.8km, turn left towards Atlin (Highway 7). Look out for the km 6 marker on your right and then follow the signs to Little Atlin Lodge. (Our driveway is directly opposite the White Mountain trail parking lot.)
Contact Us
---
Let us know any request you have and we'll try to help.
Meet the Team
---
Owner/Operator & Fetch Champion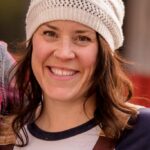 Shannon Mallory
Owner and Operator
Shannon has been a Yukoner since 2006. She acquired Little Atlin Lodge in 2021. Shannon is an outdoorsperson, handywoman, and truly loves to welcome guests. In her free time, she loves to cross-country ski, snowboard, canoe, build and create things.
Pepper
Fetch Champion
Pepper loves to run and catch sticks.

If you are not into dogs, don't worry, you won't see her. We keep dogs to their cabins or in the dog yard. We also do thorough cleaning in our cabins, every time.
History of the Property
---
Est. 1979
Original Log Cabin – what is now the main house – built
Small cabin next to the house
Open as a lodge and accommodations
Two cabins Pine and Spruce are built
Shannon takes over Little Atlin Lodge